Chhattisgarh: Relief and Structure–Chhattisgarh has area of 135194 square km which is 4.14% of the geographical area of India. It is located in the centre of 17.43′ to 24.5 degree North latitude and 80.15 to 84.20 degree East longitude.
Chhattisgarh was formed on 1 November 2000 by partitioning 16 Chhattisgarhi-speaking southeastern districts of Madhya Pradesh. The capital city of Chhattisgarh is Raipur. Uttar Pradesh in North, Jharkhand in North-East, Orissa in East, Andhra Pradesh in South, Maharashtra in South-West and M.P. & Maharashtra in West form its borders.  Currently chhattisgarh comprises 27 districts.. 43% Land is covered by Forests.
There are 3geographical zones northen hills, central plains and Bastar plateau.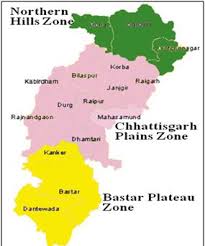 Northern Hills: The area of this agroclimatic zone accounts for 21% of the total geographical area. Koriya, Sarguja, Surajpur, BalrampurJashpur, Raigarh and Korba are districts situated in this part.
Central Plain Zone: this agroclimatic zone covers 50% of the geographical area of the state. Raipur, BalodabajarBhathpara, Gariyaband, Bilaspur, MungeliJanjgir-Champa, Kabirdham, Rajnandgaon, Durg, Balod, BemetaraDhamtari and Mahasamund are districts included in this plain region.
River System – There is a network of 4 rivers. These rivers are Mahanadi, Godawari, Ganga and Narmada.  In this network, 31 large, small rivers and tributories, flow from East to West, covering a length of about 3573 Kms. in the State.
Bastar Plateau Zone: It account for 29% of the geographical area of the state. Kanker (North Bastar), Bastar, Kondagaon, Dantewada (South Bastar), Bijapur, Sukma and Narayanpur are districts included in this region.
Soil, has water retention capacity in the range of light to medium 55%-65% i.e. the Soil represents low water retention capacity.
Region Name
Soil Type
Water Retention Capacity
Northern Hills Zone
Light to medium (Reddish-Yellow)
55%
Med. Heavy to heavy(Brownish-Black)
15%
Central Plain Zone
Light to medium (Reddish-Yellow)
65%
Light to medium (Reddish-Yellow)
35%
Southern Plateau Zone
Light to medium (Reddish-Yellow)
58%
Light to medium (Reddish-Yellow)
42%
CGPCS Notes brings Prelims and Mains programs for CGPCS Prelims and CGPCS Mains Exam preparation. Various Programs initiated by CGPCS Notes are as follows:-