Climate of Chhattisgarh–
Climate of Chhattisgarh is defined as the weather conditions prevailing in general or over prolonged period of time , usually for 35 years.
 Climate of Chhattisgarh is tropical. It is hot and humid because of its proximity to the tropic of cancer and its dependence on the monsoons for rains.
Summer temperature can reach up to 45'C(113'F).The monsoon season is from late June to October and is a welcome respite from the head.
The average rainfall of Chhattisgarh is 1292 mm.
Winter is from November to January and is a good time to visit Chattisgarh.Winters are pleasant with low temperature and less humidity.
Temperature of Chattisgarh
In the month of January
10'C isotherm passes through the northern part of Chattisgarh.
As we pass from north to south, the temp increases and 12.5'C isotherm passes through mid of the state.
15'C passes through South Western part of Dantewada.
In the month of June
The temp of state in the month of June varies from 37'C to 42.5'C.
The lowest temp of the month has been recorded in the Sarguja dist. of northern Chattisgarh, where 37'C isotherm passes through it.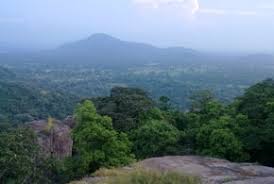 While 40'C isotherm passes through Jashpoor, Raigarh, Korba, Bilaspur, Kabirdham.
Another isotherm passes through Eastern part of Bastar and western part of Dantewada.
Temp increases from march to June, but by the end of June , the temperature decreases as the monsoon arises.
In July Raipur's temp remain about 27-28'C.There is no variation in the temp in the month of September.
But in the most of September and October , when the sky is clear , there is a slight increase in the temp.
Rainfall
Chattisgarh experiences monsoonal rainfall.
Maximum rainfall is received by Bay of Bengal branch.
Amount of rainfall decreases from east to west.
Average rainfall is more in north east Chattisgarh due to its hilly tract. The climate of Bastar is cold and moist with heavy rainfall.
In summer the area is generally cool.
Abhujhamar situated in the same region receives the maximum rainfall, roughly 187.5 cm.
Seasons
Like in most of India , there are 3 seasons in the Chattisgarh
Hot Season
This season starts from March and goes up to mid June. In the month of June , when the sun shines vertically over the tropic of cancer , due to high temp , the pressure decreases and temp rises to as much as 42.5'C in some parts of the state.
Rainy season
From mid June to September
Ambikapur, Bilaspur and Bastar experiences rain more than 100 cm.
In the last week of September ,the velocity of monsoon decreases and sky becomes clear and the amount of rainfall also decreases.
3. Winter Season
It starts from November to January
In September temp starts decreasing , this is caused due to rainfall and humidity,
and  winter arrives in November.
CGPCS Notes brings Prelims and Mains programs for CGPCS Prelims and CGPCS Mains Exam preparation. Various Programs initiated by CGPCS Notes are as follows:-