CHHATTISGARH
Chhattisgarh government reduces interest on loan under Saksham Yojna
Chhattisgarh State Government has reduced the rate of interest on loan given to women and their self-help groups (SHGs) under 'Saksham Yojna'from 6.5 percent to 5 percent.
Saksham Yojana too is operated by Chhattisgarh Mahila Kosh, under which loans to the tune of Rs 72 lakh had been distributed to about 111 SHGs during the current fiscal year 2017-18.
INTERNATIONAL
·       India, Brazil, South Africa sign IBSA Trust Fund agreement
India, Brazil and South Africa (IBSA) have signed the IBSA Trust Fund Agreement that seeks to fight poverty in developing countries.
It was signed at the 8th IBSA trilateral Ministerial Commission Meeting in Durban, South Africa.
It is an international tripartite grouping for promoting international cooperation among these countries.
·       India and Russia to participate in first-ever tri-services military exercise
The first-ever Tri-Services Joint Exercisebetween Indian and Russian Armed Forces, INDRA-2017 began.
The Indian contingent comprises of 350 personnel from Army, 80 from Air Force, two IL 76 aircraft and one Frigate and Corvette each from the Navy.
It is a landmark event in the history of Indo-Russian defense co-operation and will strengthen mutual confidence, inter-operability and enable sharing of best practices between both the armed forces.
·       World Statistics Day is celebrated on 20th October
At its 41st Session in February 2010, the United Nations Statistical Commission proposed celebrating 20th October 2010 asWorld Statistics Day.
It was first observed in the year 2010 and 2015.
It emphasizes the critical role of high-quality official statistical information in analysis and informed policy decision-making in support of sustainable development.
Jacinda Ardern to be New Zealand's next PM
Jacinda Ardern will become New Zealand's next prime minister 26 days after the country's electorate cast their votes.
Labour party will form a coalition government with NZ First, along with the backing of the Green party, which means Ardern, 37, becomes New Zealand's third female prime minister.
Ardern, who also becomes New Zealand's youngest prime minister for 150 years, said she was committed to forming a strong and durable government.
Environmental scientist Schellnhuber receives Blue Planet Prize
The world's most prestigious award for pioneers in environmental science was given to Hans Joachim Schellnhuber in Tokyo.
He is Director of the Potsdam Institute for Climate Impact Research (PIK), a member of the Leibniz Association.
The Blue Planet Prize, coming along with 50 million yen, honors outstanding thinkers who help to meet challenges of planetary dimensions.
NATIONAL 
·       Maharashtra Government panel approves 16,000-crore Navi Mumbai airport
The highest bid from GVK for building the Navi Mumbai International Airport, theProject Management and Implementation Committee (PMIC), headed by the chief secretary.
The phase 1 of the Rs16,000 crore NMIA is likely to be completed by December 2019.
He has offered a greater share in the project and the letter of intent is expected to be issued within a once the government sanction is received.
Arunachal Assembly approves Kamle as 23rd district
The Arunachal Assembly passed a bill paving way for creation of a new district to be named Kamle.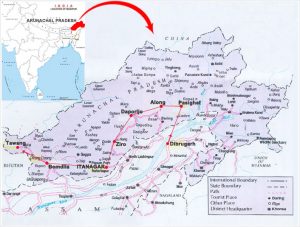 With the official creation of the new district, the total number of districts in the state shot up to 23.
Chief Minister Pema Khandu introduced the Arunachal Pradesh Re-Orgaisation of Districts (Amendment) Bill 2017 in the Assembly on October 14.
Kamle district, constituting the eastern part of Lower Subansiri district and western part of Upper Subansiri district, would have a population of 22,256 of homogeneous people.
CGPCS Notes brings Prelims and Mains programs for CGPCS Prelims and CGPCS Mains Exam preparation. Various Programs initiated by CGPCS Notes are as follows:-