C'garh accepts punchhi commission recommendations
Chhattisgarh on Friday agreed to the recommendations of the Punchhi Commission on Centre-State relations regarding environment, natural resources and infrastructure, officials informed.
The standing committee had sought state government's stand on recommendations made on volume 6 and 7 of Punchhi Commission report.
Notably, the Standing Committee of the Inter-State Council (ISC) headed by the Union Home Minister Rajnath Singh completed the onerous task of deliberations on all the 273 recommendations of the Punchhi Commission. Today's meeting was the 13th meeting of the Standing Committee of the ISC.
The recommendations in Volume VI of the Punchhi Commission report are related to Environment, Natural Resources and Infrastructure and cover the subjects on (a) Environment; (b) Water; (c) Forests; (d) Minerals and (e) Infrastructure.
The recommendations in Volume VII related to Socio-economic Development, Public Policy and Good Governance and cover the subjects on (a) Public Policy, Constitutional Governance and Public Administration; (b) Socio-political Developments and its Impact on Governance; (c) Basic Needs of People, Directive Principles and State Accountability, Centrally Sponsored Development Schemes and Federal Relations; (d) Migration, Human Development and Challenges to Constitutional Governance; and (e) Good Governance and Delivery of Public Services.
It may be noted that the Punchhi Commission notified in 2005 submitted its report in 2010. The recommendations of the Punchhi Commission, which are contained in seven Volumes pertain to History of Centre-State Relations in India; Constitutional Governance and Management of Centre-State Relations; Centre-State Financial Relations and Planning; Local Self-Governments and Decentralized Governance; Internal Security, Criminal Justice and Centre-State Co­operation; Environment, Natural Resources & Infrastructure; and Socio-Economic Development, Public Policy and Good Governance.
INTERNATIONAL
Nepal first country in south-east Asia to eliminate trachoma
Nepal has become the first country in south-east Asia to eliminate trachoma, world's leading cause of preventable blindness of infectious origin, the World Health Organisation (WHO) said.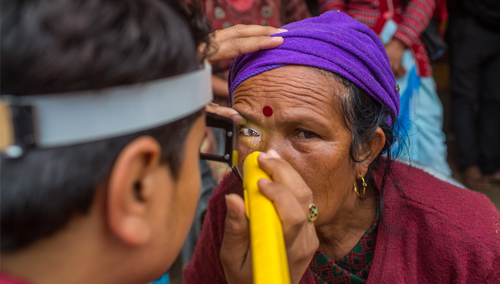 Trachoma was the second leading cause of preventable blindness in the Himalayan nation in the 1980s.
In 2002, the Government of Nepal had stepped up the efforts to eliminate trachoma with the establishment of a national trachoma programme.
Columbia formally joins NATO
One year after reaching partnership deal through a peace agreement with South America, Columbia has has formally joined the North Atlantic Treaty Organization.
The North Atlantic Treaty Organization is an intergovernmental military alliance between 29 North American and European countries based on the North Atlantic Treaty that was signed on 4 April 1949
·        India to Be Host Country For Celebrations Of World Environment Day 2018
India will be the host country for celebrations of World Environment Day 2018. 
The announcement in this regard was made by the Environment Minister Dr. Harsh Vardhan.
The theme for this year is 'Beat Plastic Pollution'.
The government has launched green deeds campaign to raise awareness about protection of the environment.
The World Environment Day will be celebrated on 5th of June.
NATIONAL
Yogi govt to change name of Allahabad to Prayag
Allahabad is set to be rechristened as 'Prayag', a long pending demand of sadhus and saints of the Sangam City.
The new name is likely to be approved by the state cabinet soon, sources in the government said in Lucknow.
During his recent visit to Allahabad to release dates of Shahi Snan (royal bathing), Akhil Bharatiya Akhara Parishad has urged Chief Minister Yogi Adityanath to rename Allahabad as Prayag before the coming Kumbh Mela in 2019.
Prime Minister lays foundation stone for Patratu Super Thermal Power Project
Prime Minister Narendra Modi laid the foundation stone for the 2400MW first phase of NTPC's Patratu Super Thermal Power Project in Jharkhand.
The project is a 74: 26 Joint Venture between Government of Jharkhand (GoJ) and Patratu Vidyut Utpadan Nigam Ltd. (PVUN), a subsidiary company of NTPC establishing a total capacity expansion of 4,000MW.
Envisioning the brighter future for India's 19th State, NTPC's PVUNL is set to develop the project in two phases: 2,400 MW (3x800MW) in Phase-I and 1,600 MW (2×800 MW) in Phase-II.
·        Union Minister Prakash Javadekar launches Samagra Shiksha scheme for school education
The Union Human Resource Development Minister Prakash Javadekar launched Samagra Shiksha schemefor school education from pre-school to senior secondary levels.
The scheme will mainly focus on improving quality of education, enhancing the learning outcomes and using technology to empower children and teachers.
The scheme will be focused on digital education and it will enhance the use of digital technology in education through smart classroom and digital boards.
The scheme will provide a holistic education for holistic development.
It would help improve the quality of education by focusing on teachers and technology.
An annual grant of Rs 5000- 20,000 will be provided for the strengthening of libraries in the schools.
·        Centre to move SC for clubbing all MRP cases
Realising that consumers are bearing the brunt of contradictory orders by different courts with regard to maximum retail price (MRP) of packaged items, particularly bottled water, the consumer affairs ministry has decided to approach the Supreme Court to club all cases and refer them to one bench to settle the issue.
The ministry has also argued that single MRP norm should be followed in "larger public interest"and to "protect consumers". Nearly a dozen cases are pending before different high courts including Bombay, Delhi, Jammu & Kashmir, Rajasthan and Kerala besides one before the Supreme Court.
·        N-E states favour relaxing permits for foreign tourists
Arunachal Pradesh and Sikkim, out of bounds for foreign tourist without a special permit, have supported a move by the Centre to relax the system to boost tourism in the region.
Both the state governments said they will convey the views in this regard to the Centre in the coming few days.
Foreign tourists need to obtain Protected Area Permit and Restricted Area Permit to visit Arunachal Pradesh and Sikkim for security reasons. Indian tourists need an Inner Land Permit.
While Arunachal Pradesh shares boundary with China and Bhutan, Sikkim does with China, Bhutan, and Nepal.
The protected areas currently include whole of Arunachal Pradesh, Manipur, Mizoram, Nagaland and Sikkim, besides parts of Himachal Pradesh, Rajasthan, Uttarakhand and Jammu and Kashmir. Some parts of Sikkim fall under the protected area regime while others under the restricted area.
CGPCS Notes brings Prelims and Mains programs for CGPCS Prelims and CGPCS Mains Exam preparation. Various Programs initiated by CGPCS Notes are as follows:-